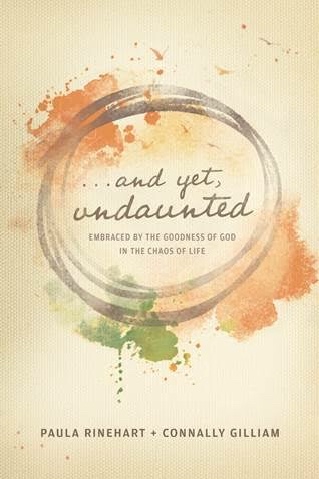 NEW RELEASE!
October 8, 2019
Life is hard. We often find ourselves walking through stories that don't feel like they should be ours. And yet here we are. We wonder where our good God is in the midst of it.

But we are not left without hope. In fact―we have the greatest hope of all. Through vulnerable stories and rich insight, Paula Rinehart and Connally Gilliam point to the Larger Story that carries all the anxiety, longing, and beauty of your life. The backdrop of the big gospel story―creation (how life ought to be), the fall (how life is), redemption (how life can be), and restoration (how life will be one day)―gives context to our lives and hope for walking forward. The grand story of the gospel of Jesus Christ frames our every step.

Discover renewed strength and joy in the middle of your ache . . . and the goodness of God that will give you the courage to remain yet undaunted.
Revelations of a Single Woman: loving the life i didn't expect
Connally wrote Revelations of a Single Woman: Loving the Life I Didn't Expect because she began to realize that her story of 'unintentional singleness' wasn't just her story.
Looking around at her friends and the broader culture, she began to realize that a lot of women, regardless of their faith, race, temperament or family background, were all in the same place. And that's what made her look more closely for the God who was—and is—showing up, right now, even in a relational landscape which felt and feels foreign to many.
That's what this book is about, discovering that even when life doesn't look or feel like you expected it to, God—and actually a lot of other people, too—are right in the midst of it, with you, opening doors into wide open spaces.